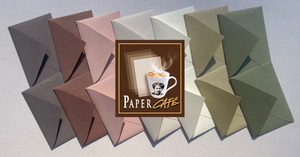 WELCOME
–
The Papercafe is a speciality paper merchant that has been built on a culture of creativity and innovation. In our hearts is a commitment to lead the industry with world-class products and trustworthy services. We always try to find the best solution for our clients.
ABOUT
WE ARE THE PAPERCAFE
The PaperCafe is the perfect place to find the right paper for corporate stationery, wedding invitations, brochures, business cards and for any other paper requirements you have. Our goal is to help you make the best paper choices using our wide range of premium papers.
PaperCafe has Papersmith's full range of paper cut to A3 and A4 sizes as well as products required for presentations such as mount boards, spray glues, tapes, laser and tracing paper.
We can help you design and print your wedding invitations to make your special day that more memorable.
The trendy paper showroom is a total paper experience modelled on an international concept that has taken London, Paris and Sydney by storm.
Location
THE PAPERCAFE
32 Glenhove Rd, Melrose Estate, Johannesburg, Gauteng, South Africa
Mon - Fri: 8:30am - 5:00pm
Sat-Sun: Closed